Smartocto Insights Quadrant Analysis will help you boost your content strategy by finding out which type of content performs best, and which requires additional attention.
It will help you find the patterns, check, and improve your content strategy!
How to access Quadrant?
To access it, go to your Insights application and click on Quadrant next to Reports.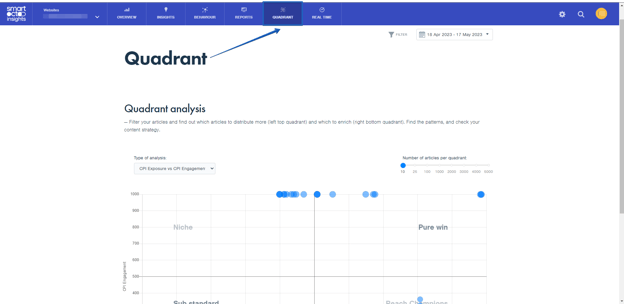 The quadrant is divided into four sections:
Niche - Articles with high Engagement CPI but low Exposure CPI
EXP<500, ENG>500, LOY>500
Pure win - Articles with both high Exposure and Engagement CPI
EXP>500, ENG>500, LOY>500
Sub-standard - Articles with both low Exposure and Engagement CPI
EXP<500, ENG<500, LOY<500
Reach Champions - Articles with high Exposure CPI but low Engagement CPI
EXP>500, ENG<500, LOY<500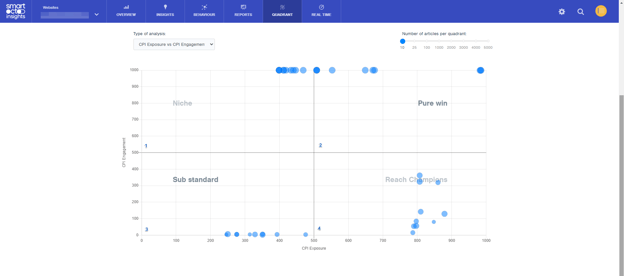 Clicking on the blue dots in one of the sections will show you the article headline and its CPI. Clicking on the Article details will lead you to the article's Insight page which will show you more information in detail.
You can switch between types of analysis from the drop-down menu and use the slider to change how many articles you want to see.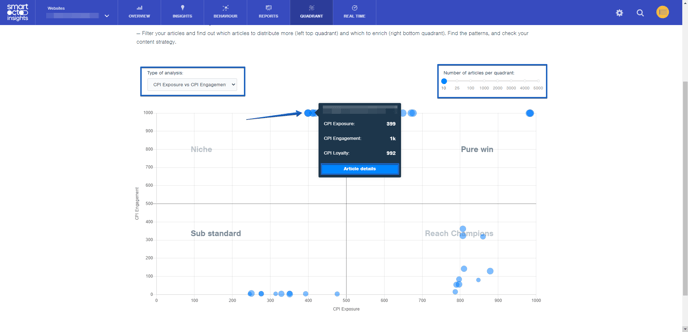 By using a standard Insights filter, you can perform analysis for a certain topic, author, and section in the period you want.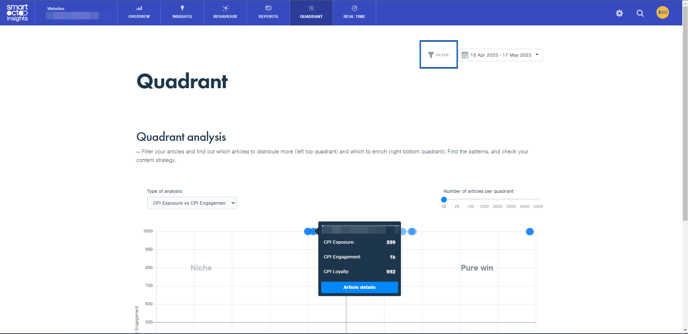 What should you do with articles in Quadrant Analysis?
There are six strategies:
STRATEGY #1: MORE OF THAT
Whatever is in the right top section is doing pretty well. If there are topics in there that you're not serving out on a regular basis, you should rethink that: clearly readers like them.
STRATEGY #2: DISTRIBUTE OR ENRICH?
The left top quadrant articles might need some further thought about distribution (place in Facebook, newsletter, homepage etc), while those in the bottom right need enriching somehow (think video, infographics etc).
STRATEGY #3: CHECK YOUR PAYWALL STRATEGY
If you select free and paid articles and see which quadrants they're in, you can learn a lot about your paywall strategy. Are there paid articles that are surprising reach winners? What is the pattern in that? Are there free articles that are too niche to play a big part in the open domain? Maybe they're better suited to serve your paying subscribers and reduce churn. (And, by the way: the quadrant also shows loyalty which correlates with conversions).
STRATEGY #4: CHECK YOUR USER NEEDS FOR THE NEWS FORMULA
If you tag user needs, you can set User Needs topics as filters, and select a lot of articles, the colors will show you the role your user needs to play in your content strategy. Which formats should you use, when you want more reach or more engagement, for example?
STRATEGY #5: TRAIN THE EDITOR
If you select authors, you can see which authors are crushing it, and which still need to win on impact or need to enrich their articles. Depending on the topic of course.
Whatever topic is continuously in the Basement (left bottom), produce less of that to save valuable editorial time that you can use for other quadrants.